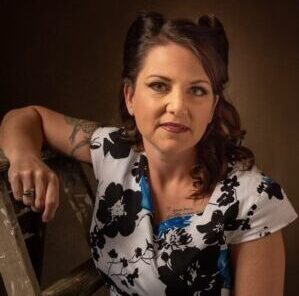 The Coos Bay Area Zonta Service Foundation is proud to announce the third Patty J. Barton Memorial Scholarship is awarded to Linda Robbins, Myrtle Point. This is a $20,000 renewable award to be issued over qualifying terms as the requirements of performance are met.   Patty J. Barton was a long time Zonta member with a passion for women choosing to face their life's challenges by improving their status through education.  Linda Robbins is doing just that, pursuing education to become a schoolteacher.  Patty's husband, Jon Barton, began the scholarship fund from donations upon Patty's death in 2018. Through club fundraising efforts, we have been able to grow and now use the funds to honor Patty with this award that will support Linda with her education.
Linda Robbins grew up in Myrtle Point, and attended Myrtle Point High School. She married young, and started a family. In 2008 she graduated from cosmetology school and worked as a hairdresser, before going to work in the Myrtle Point school district. Working as a bus driver and teacher's aide, she was inspired to enroll at Southwestern Oregon Community College, to pursue her goal of becoming a schoolteacher. Linda is currently enrolled at Grand Canyon University. Linda and her husband have seven children. While serving as foster parents, they adopted their four youngest sons. Linda's long-term plan is to live and teach special education in Myrtle Point.
The Zonta Foundation received 17 amazing applicants from both Coos and Curry Counties for this scholarship. The selection process reduced the pool to six applicants who received personal interviews.  Shirley MacAdam, the PJB Scholarship Chair said, "It is inspirational to witness the many women in our community pursuing their college educations all over the United States and in a variety of fields.  We encourage all of you to keep an eye on our club website zontacoosbayarea.org every January for the many scholarships we plan to continue to provide. A fourth PJB Scholarship will be awarded in 2023. Donations to the Coos Bay Zonta Service Foundation are always appreciated."
In Linda's application she wrote, "I feel motivation in knowing that my contribution and dedication to our community will only grow once I am able to teach my own classroom – all the strategies that I have learned in the last two years through my job and my education will benefit me and my students." It is a joy for Zonta to offer our support to Linda Robbins on her education journey and we look forward to watching her many accomplishments and contributions to our community in the years ahead.