Coos Bay Area Zonta Service Foundation
MISSION
To Improve the legal, economic, educational, health and professional status of women and children.
The Coos Bay Area Service Foundation was established in 2000 and is a 501c3 charity organization. The club membership's fundraising efforts to support the Foundation included the famous Celebrity Dinner and Auction which we hosted for 21 years raising over $500,000 during that time. The club also supported a grant writing committee which successful raised over $50,000 for the club's Little Red Schoolhouse program which coordinated the purchase and distribution of basic school supplies to elementary schools throughout Coos County. Club fundraising efforts and committee work have been effected by the COVID pandemic. Our resilient membership adopted online fundraisers, letter campaigns and incorporated social media tools to continue raising funds for both our local and international projects. We continued a successful grant writing effort for the club's Girls Rock in Tool and Trade education program. 
In November of 2022 we hosted our first LUNAFEST Film Festival at the historic Egyptian Theater. The club raised almost $4,000 at this inaugural fundraiser which promised to be even bigger and better in 2023!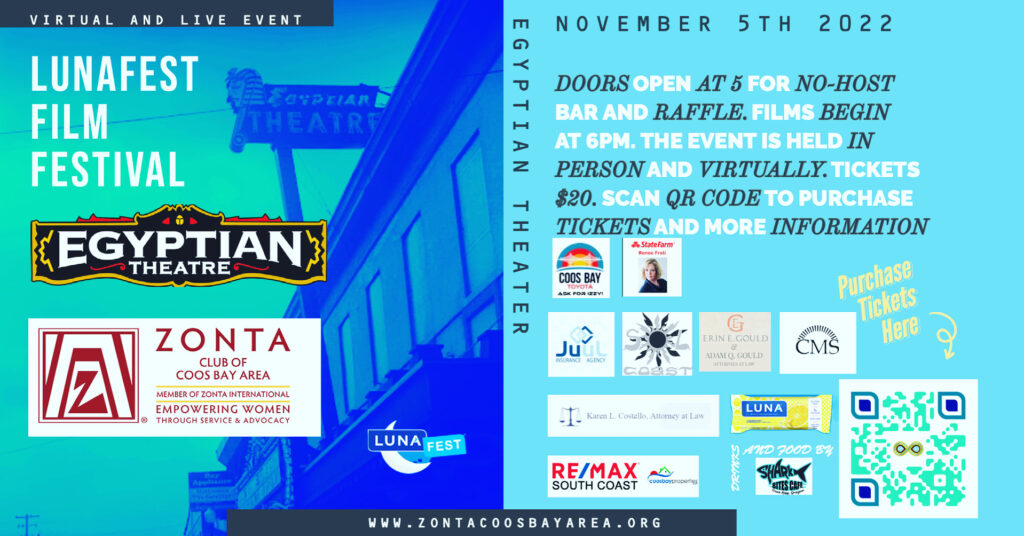 Zonta Celebrity Dinner 1999-2021
How the Zonta Celebrity Dinner Got Its Name
The first annual Celebrity Dinner and Dance was held at the North Bend Community Center in 1999 as a means to fund the club's service project, The Little Red Schoolhouse. The dinner moved to St. Monica's Church, SWOCC Lakeview rooms, then back to NB Community Center from 2003-2008. The dinner was catered and served to the guests by local "Celebrities", men and women chosen for their community service both paid and volunteer, thus the name, Celebrity Dinner.
Over the years a silent and live auction were added which have greatly supplemented the fun and financial success of the event. The event is very popular in part for the different and unique themes chosen each year
In 2009 the event moved to the Mill Casino where the need for Celebrity Servers ended, and was replaced by Celebrity table hosts. In 2010 the club voted to select one or more celebrities to honor each year, men and women who have worked to improve the lives of women and girls.
These honored Community Celebrities include:
2020 Judge Megan Jacquot
2019 Oregon State Senator Joanne Verger
2018 The Erbele Family: Mike, Kristi, Ashley and Amee
2017 Coos County Clerk-Retired Terri Turi
2016 Business Owner Michaela Vonderohe
2015 Coos Bay Librarian Carol Ventgen
2014 Zonta Club Life Members: Paula Bechtold, Laura Lee Blenz, Carol Clayburn, Shirley Gray-Roby, Verena Matthews, Carol Ventgen, Debbie Webb, Sheila Wilma and Freda Young
2013 Operations Manager K-DOCK Radio Mike Chavez
2012 Business owners Allan Lesdema and Heather Arzie
2011 Coos Bay Police Chief Eura Washburn
2010 Judge Paula Bechtold
This event wouldn't be possible without the previous 200+ Zonta Celebrity Servers.
THANK YOU ALL FOR YOUR CONTINUED SUPPORT!